Te eke paihikara i Te Āpiti
Biking Te Āpiti – Manawatū Gorge
Bike the Manawatū Gorge today! There are currently two fantastic mountain biking trails near Te Āpiti – Manawatū Gorge.
TRACK CLOSURE: Please note that the Te Ara o Mahurangi track is closed until further notice due to a large slip blocking the track
Te Ara o Mahurangi (Closed until further notice)
Te Ara o Mahurangi mountain bike trail takes riders on a fast-paced downhill ride through 2km of native bush. This ride is best suited for intermediate and advanced riders.
Type: Mountain Biking
Distance: 3.6km Loop
Elevation: 92m – 213m
Time: 20+ minutes
Grade: 3 & 4 Intermediate/Advanced
Please note: Currently this trail is best avoided after heavy rain as it can get very slippery and muddy.
Track description
Riders have the option of doing a 3.6km loop by parking at the old Bridge Café (please note: café closed) and riding 1.6km up Hall Block Road before descending the trail. Alternatively, vehicles can drop off riders on Upper Hall Block Road at the start of the trail.
After descending the Grade 3 trail for 800m, riders will come to a fork. The right fork allows riders to continue on 1.2km of Grade 3 trail, while the left fork allows advanced riders to quickly descend through steeper and more challenging terrain. Both options arrive at the common exit point on Hall Block Road.
Access
Option 1 (loop) – Traffic currently diverted through the Saddle Road. From Palmerston North, drive towards Ashhurst on SH3, continuing through the Gorge. At the end of the Gorge turn right onto Ballance Bridge (Gorge Rd). Continue for 800m and park in the gravel car park on your left. Jump on your bike and head back along Gorge Rd for 50m, turning left onto Hall Block Rd. Ride up the gravel road approximately 1.6km, before entering the downhill track on your left which leads back to the car park at the bottom.
Option 2 (downhill only) – Follow the directions in Option 1, however instead of parking in the car park on Gorge Rd, turn right onto Hall Block Rd. Approximately 1.6km up there is a small turning bay adjacent to the start of the downhill track. It is recommended that riders are dropped off with the driver heading back down to the car park at the bottom on Gorge Rd.
Please note:
This trail is the result of collaboration between Te Āpiti – Manawatū Gorge Biodiversity Project and the Manawatū Mountain Bike Club, who will continue to maintain this trail. Is not suitable for beginner riders due to some reasonably steep down hill sections.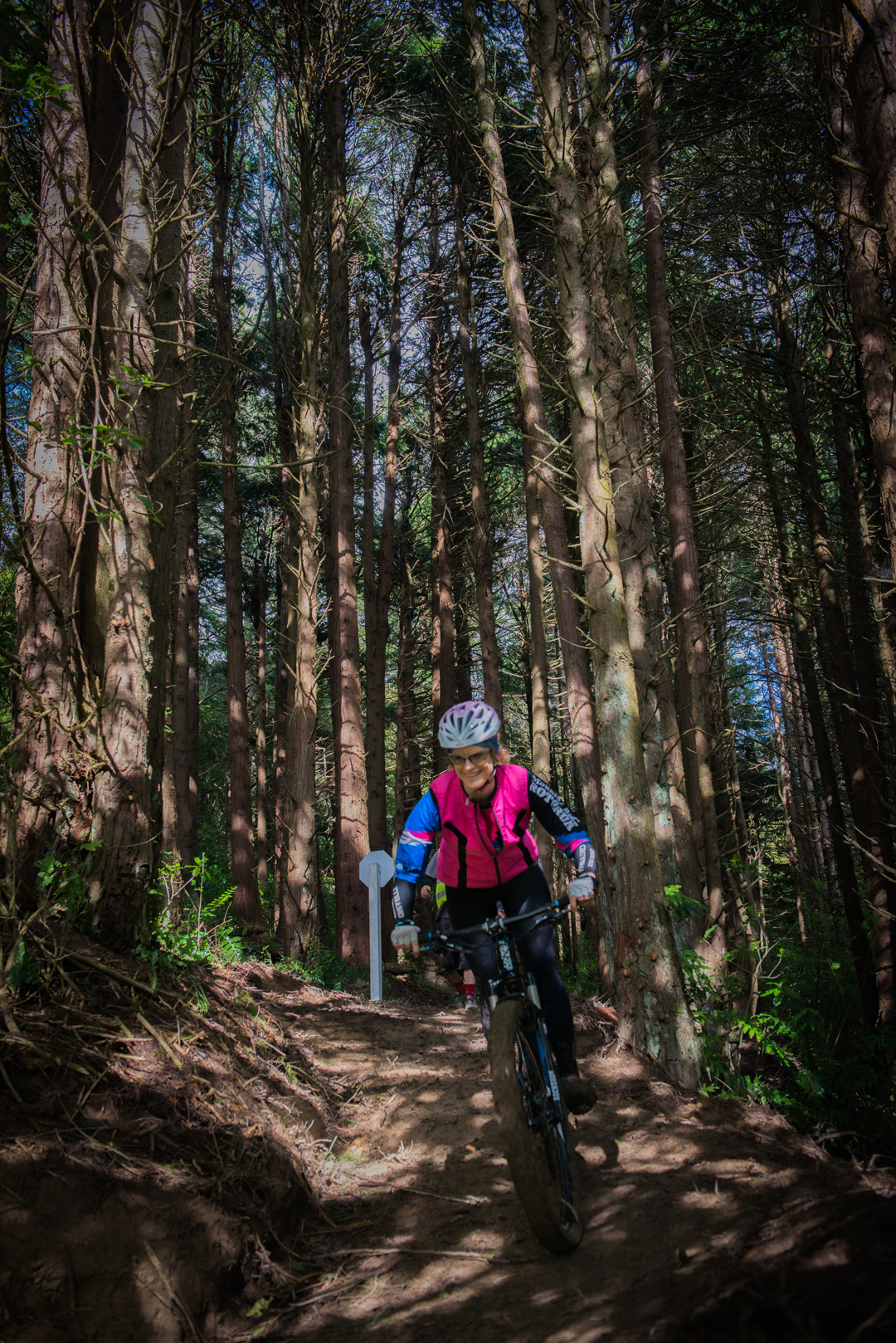 The trail was named after Mahurangi, the famous pet dog of Tarawhata, son of Pouheni. Tarawhata lived in the 14th century and, as a young man, set out on a journey with Mahurangi that began in Tūranganui-a-Kiwa (the Poverty Bay region). The pair travelled south together, naming various rivers, lakes and places as they went.
Windfarm Ride
The Windfarm Ride affords you the rare opportunity to see both the wonders of nature and the marvels of modern engineering.
Type: Mountain Biking – Gravel & Mixed
Distance: 41km one-way
Time: 2.5 hours approx.
Grade: 3 – active & experienced riders
Please note: Caution needs to be taken in rough weather conditions.
Track description
To glimpse the mighty wind turbines is an experience in itself, but to glimpse it on the back of a bicycle is one that you'll never forget. The gargantuan blades of the windmills will seem in tandem with the wheels of your bike as you race down the magnificent dirt tracks. With its twists and climbs, this ride is not for the faint hearted but will leave you with a sense of awe and accomplishment as the countryside lays itself out before you. Whether you take it fast and aim for a personal best, or you take it slow and soak in the beauty, this ride is a must. Don't just see the Manawatū, experience it.
Access
Option 1 (from Palmerston North City) – Start your ride in Palmerston North City anywhere between The Square and the Fitzherbert Bridge. Continue over the bridge before veering onto Summerhill Drive, which turns into Aokatere Drive. Take a right onto the Pahiatua Track, continuing for approximately 8km before turning left onto North Range Rd. Eventually turning into Hall Block Rd, this track will finish outside the Bridge Cafe on Gorge Rd (please note: cafe closed).
Option 2 (from Gorge Rd) – You will need transport to drop you off at the start of this ride. Drive to the Bridge Cafe on Gorge Rd via Te Āpiti – Manawatū Gorge or the Paihiatua Track. Jump out and ride up Hall Block Rd (100m north of the cafe) to start the route. Eventually turning into North Range Rd, continue along until the end of the road, turning right onto the Pahiatua Track. At the end of the road turn left onto Aokatere Drive which turns into Summerhill Drive, and then into Fitzherbert Avenue, which leads you into The Square in Palmerston North City.
Caution needs to be taken in rough weather conditions. Keep an eye on the weather report before starting this ride, as the weather can be extreme at times. Layered clothing is recommended, to be prepared for all types of weather. It is not recommended that you do this ride if the wind is up. This is not a return ride. You start on Gorge Road and end in Palmerston North City.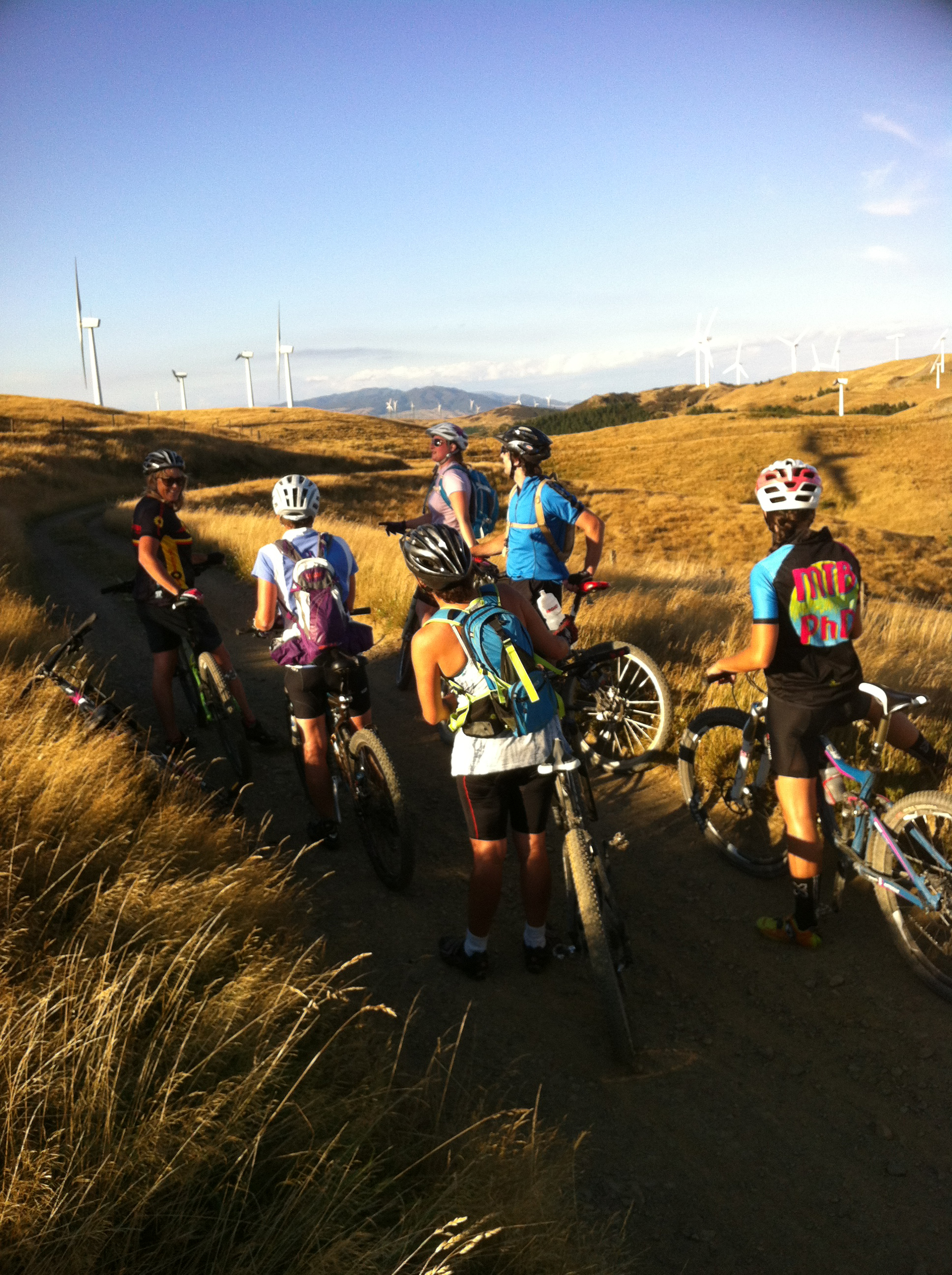 Protecting the tracks
Help protect this precious taonga and make the tiaki promise before you visit. Enjoy your trip and leave the land undisturbed.
Te eke Paihikara
Mountain biking
Mountain biking is not permitted on walking tracks in the Manawatū Gorge. Please stick to the designated mountain biking tracks.
Nga Kuri
No dogs
Dogs are not permitted as poisons are used in the reserve.
Stay safe and be prepared
Even if your only planning a short excursion it pays to be prepared. Before your next trip, make sure you read and understand The Outdoor Safety Code, as well as telling someone your plans – your safety is your responsibility.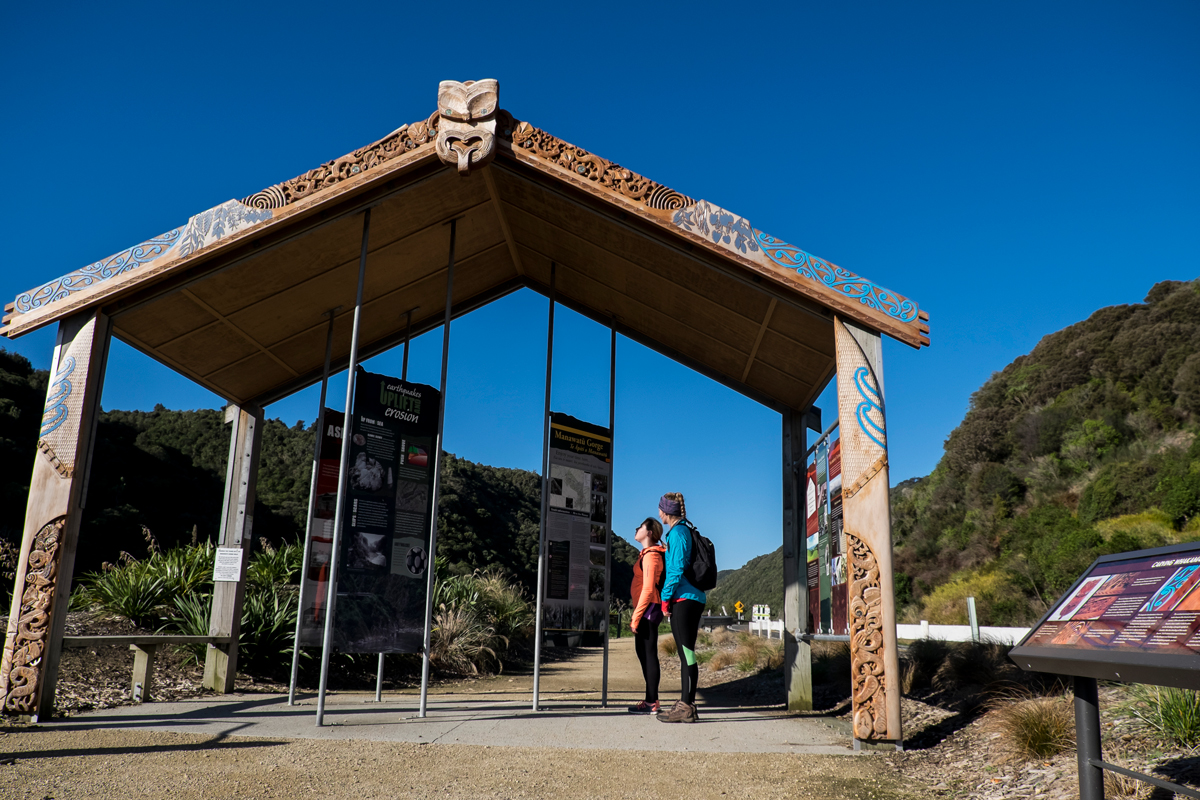 Read the Outdoor Safety Code from Adventure smart and follow the guidelines so you know before you go.