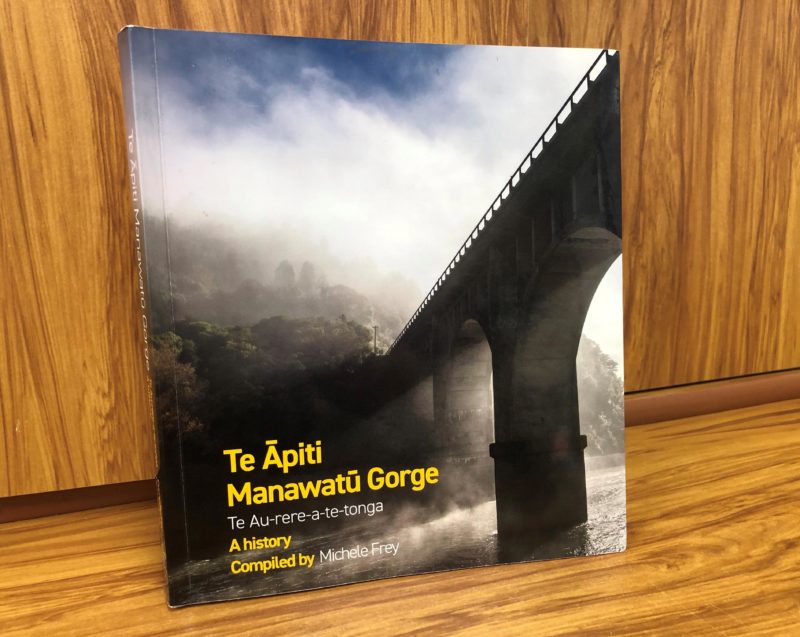 It's been eight years in the making, but Te Āpiti – Manawatū Gorge Te Au-rere-a-te-tonga, a history is to be launched with two events this weekend.
At almost 300 pages, author Michele Frey says the book is a rich celebration of the natural, physical, and spiritual elements of one of New Zealand's special places.
"While it was a long journey to produce this book, getting it right was important. Many collective minds from the wider Te Āpiti community and endless commitment has helped bring it to life," says Ms Frey.
"The book has brought together previously unrecorded information from people past and present of the area, as well as information previously held in sparse locations.
"As the book was developed we maintained sight of Mātauranga Māori as a fundamental part of the final publication.
"The book spans a wide range of topics, intentionally. The goal was to really take a deep dive into this place, which has not been done before. Ultimately we hope it has captured the essence of Te Āpiti.
"Content includes the natural environment and unique landform; pre-human, previous and current flora and fauna; rich Māori and early European history; inhabitants and some of their stories; construction of the road and history of rail; land use including farming and wind turbines; and recreation.
"As the content unfolds, the stories are complemented by images from David Lupton and others.
"While the journey to produce this book was long, the book is richer for it. It feels like a true community collaboration that the entire region can be proud of being a part of."
Te Apiti – Manawatū Gorge Governance Group member and Palmerston North City mayor Grant Smith says the timing of the book's publication couldn't be better with the recent closure of the road and the interest in the area.
"The Gorge offers so much more than just a route between the City and Tararua. Michele and her fellow contributors have captured a historical snapshot in time. We acknowledge Te Āpiti's past and look forward to what the future will bring for this truly significant and stunning place.
"While the books have literally just arrived into the region, many preorder sales are already heading out the door. Those looking to purchase in time for Christmas can do so by attending one of the two launch events. Public can purchase from Bruce McKenzies Booksellers in George Street Palmerston North, or Paper Plus Select in Main Street Pahiatua. For organisations or libraries e-mail nicky.harris@pncc.govt.nz for orders.
Te Apiti – Manawatū Gorge Te Au-rere-a-te-tonga, a history retails at $39.95 per soft copy and $59.95 per hardcover.
Public Events
Friday 13 December, 5.30pm
Events Central, Palmerston North Central Library
4 The Square
Palmerston North
Saturday 14 December, 12.30pm
Fountain Square
Woodville
(next to Radio Woodville)