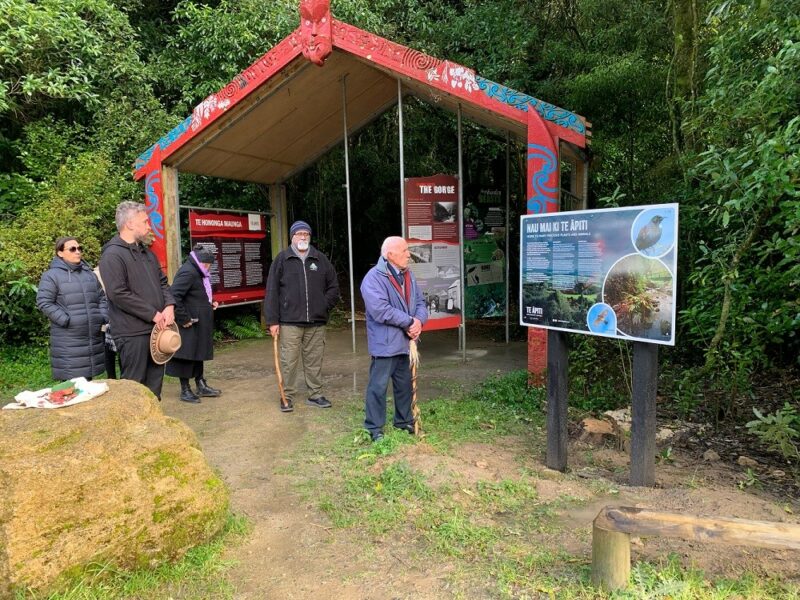 Two new signs have been blessed at the eastern side of Te Āpiti – Manawatū Gorge by Rangitane o Tamaki nui-ā-Rua.
Te Āpiti -Manawatū Gorge Governance Group chair, and Horizons Regional Council councillor Fiona Gordon, says Te Āpiti – Manawatū Gorge is a place of great power and beauty.
"It is a taonga that has been under the kaitiaki of Rangitāne o Manawatū, Rangitāne o Tāmaki nui-ā-Rua, Kahungunu ki Tāmaki nui-ā-Rua, and Ngāti Raukawa for hundreds of years.
"The new signage, thoughtfully and carefully crafted with iwi, provides a glimpse into some of those things that make Te Apiti so precious to us all." says Cr Gordon
"The welcome sign to the entrance to the eastern end of Te Āpiti – Manawatū Gorge Track, highlights the special physical, spiritual and biodiversity features people will find at Te Āpiti."
A Ferry Reserve Wetland sign has been placed on the short walk. The wetland is an important ecosystem and a symbolic reminder of the native habitats that once covered a large area stretching along the base of the Ruahine and Tararua Ranges.
While the blessing was a chance to reflect upon this special place, iwi and guests were distressed to discover damage to existing signs and carvings at the entrance to the gorge walk entrance.
"I am deeply saddened by the disrespect suffered by the whole community through the vandalism at the Woodville entrance to Te Āpiti," says Cr Gordon.
"We encourage the public to help us protect and preserve this special place by looking after it which includes reporting any suspicious behaviour to the police."