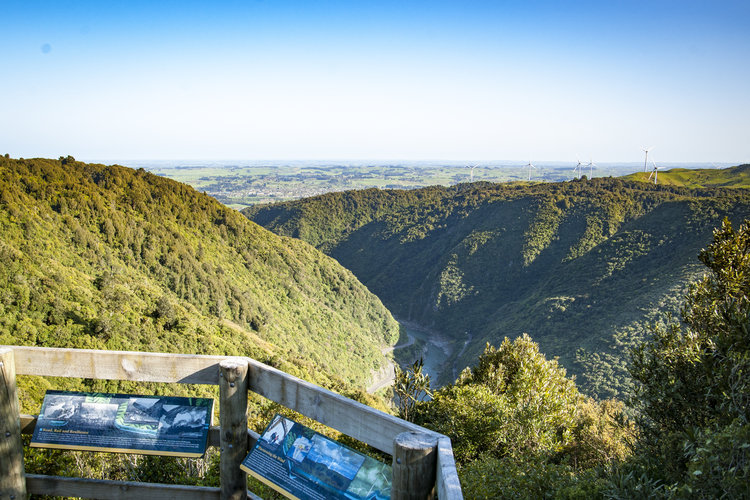 We've made some changes to the website to make it easier for you to learn about Te Āpiti – Manawatū Gorge, and to help you plan your next trip.
Te Āpiti – Manawatū Gorge is a precious taonga, and the closure of the gorge road has brought with it exciting new opportunities for recreation and conservation. The new website reflects the traditional heritage of Te Āpiti, and provides our communities with a rich resource for learning about its unique geography, biodiversity and history, and the work being done to protect it.
The Environment section of the website includes information on the creation of the gorge, as well as detailed descriptions and images of the native flora and fauna found there. You can also read about conservation efforts to protect these native species, and dive into educational resources from the likes of the Department of Conservation and Manawatū River Leaders' Accord.
In the Māori History section, you can learn about the many traditional stories associated with Te Āpiti, including the legend of Rangitāne and Ngai Tara tupuna Whātonga, whose importance to the area is marked by a spectacular cultural artwork at the top of the Tawa Loop track.
The Community section outlines the work of Te Āpiti – Manawatū Gorge Governance Group, which has been established to implement a 10-year vision that focusses on the area's biodiversity, as well as its recreational, educational and cultural values.
This section also includes information about the closure of the Manawatū Gorge Road and its proposed replacement – Te Ahu a Tūranga: Manawatū Tararua Highway.
In addition to all this new content, the website makes it easier to find Te Āpiti – Manawatū Gorge and make the most of your visit, with interactive maps and details of the great activities on offer. In the Visit section, you can find out about the area's walking and mountain biking tracks, reserves and camping areas, and activities like fishing and horse trekking. This information is all supported by an interactive 3D map that allows you to explore Te Āpiti – Manawatū Gorge ahead of your visit.
And we'll be able to keep you updated on everything that's going on with this cool new blog in the News section. It's an exciting time for Te Āpiti – Manawatū Gorge, so make sure you check in regularly and share our news with your friends and whānau.
In the meantime, please have a look around the new website, and make a plan to visit Te Āpiti – Manawatū Gorge soon.