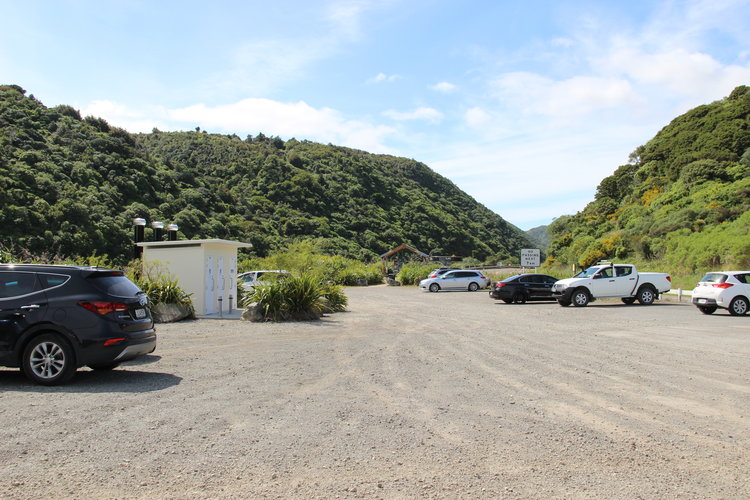 Single pan permaloos at both ends of Te Āpiti – Manawatū Gorge have been replaced with larger toilet blocks to support increasing visitor numbers to the popular scenic reserve.
The new facilities were funded through a successful central government mid-sized tourism fund application of $105,800 received earlier this year, as well as additional funding of $20,000 each from Horizons Regional Council, Palmerston North City Council, and Tararua District Council respectively.
Te Āpiti – Manawatū Gorge Governance Group and Horizons Regional Council Chair Bruce Gordon says that while the road may be closed the reserve's recreational facilities are still very much open.
"Te Āpiti – Manawatū Gorge is a highly prized destination that offers a range of recreational opportunities in a highly-visited, biodiversity managed and scenic location.
"Last year's figures showed that the area had over 100,000 visitors, with walking track numbers increasing by 350 per cent since 2012, and an estimated 100 campers staying in Ferry Reserve every week over summer.
"This meant the toilet facilities at the respective Ashhurst car park and Ferry Reserve ends of the ManawatŪ Gorge had outgrown their capacity.
"Four bush walks, including the newly re-routed 11 km full length walking track, a mountain bike trail, and freedom camping, fishing, swimming and a designated BBQ area at Ferry Reserve means the Manawatu Gorge is one of the Region's best places for recreation.
"It could even be said that the road's closure is a biodiversity blessing as we have heard numerous reports of increased native bird activity from species such as morepork, bellbirds, kereru, tomtits and falcons."
The Te Āpiti – Manawatū Gorge Governance Group is a collaboration between Horizons Regional Council, Manawatu District Council, Palmerston North City Council, Tararua District Council, the Department of Conservation, iwi, landowners and individuals.
Formed in 2016, in its first year the Group's actions included a budget for pest control and parks and reserve management, and the compiling of an overarching biodiversity management plan for the area. They also funded work to upgrade the Grade 3 Te Ara o Mahurangi mountain bike track.
A proposed new 4km walking track at the Ashhurst end of the Gorge and new mountain bike track are being considered as a result of the Accelerate25 Manawatū-Whanganui Economic Action Plan.
Mr Gordon says the Governance Group's membership reflects the high level of commitment towards protecting, enhancing and sustaining the wider Manawatu Gorge area.
"Not only is it about collectively funding initiatives, it is about on the ground work," says Mr Gordon.
The toilet facilities in the Ashhurst end carpark will be maintained by Palmerston North City Council, and the ones at the Ferry Reserve will be maintained by Tararua District Council.
"Tourism is hugely important to many of our regional economies and infrastructure is essential to harnessing the benefits of growth in the sector," says Mr Gordon.
"Our collective efforts are putting people back into what is uniquely ours."