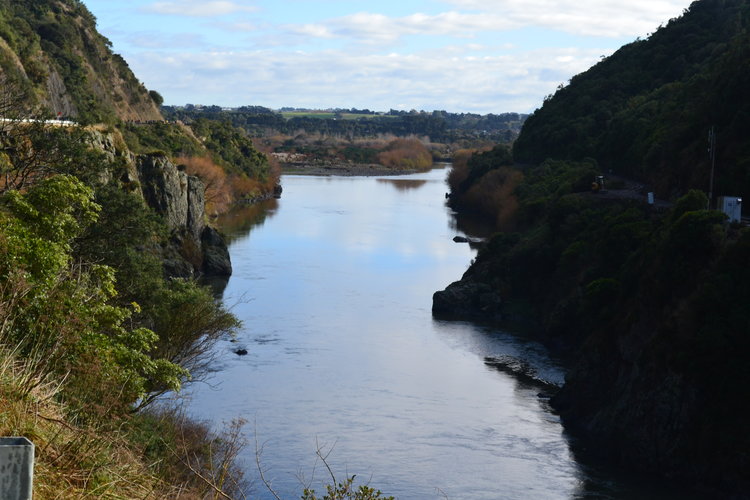 The Department of Conservation (DOC) will be contributing an extra $100,000 to target invasive weeds within Te Apiti – Manawatu Gorge.
The funding is part of DOC's 'Dirty Dozen' weeds programme benefitting weed control projects across the country, targeting those weeds identified as doing the most damage to our natural landscapes.
The Te Āpiti – Manawatū Gorge Governance Group, made up of senior representatives from Horizons Regional Council, DOC, Palmerston North City Council, Tararua District Council, Manawatu District Council, iwi and a community representative, welcome this much needed funding boost.
The Group's membership reflects the high level of commitment towards protecting, enhancing and sustaining the biodiversity, recreational, educational and cultural values of the wider Manawatu Gorge area. The Gorge offers a range of recreational activities in a highly-visited biodiversity management and scenic location, which has the potential to contribute to a stronger economy, community and cultural wellbeing.
The Governance Group has set itself goals, which in its first year includes budget for pest control and parks and reserve management, and the compiling of an overarching biodiversity management plan for the area.
DOC director operations Lower North Island and Te Apiti – Manawatu Gorge Governance Group member Reg Kemper says the funding will target two areas. $80,000 will be used for ground control of old man's beard and the remaining $20,000 will be used for control of Japanese honeysuckle and wandering willie.
"This funding is in addition to the project's current $50,000 budget, which we hope will allow us to treat all accessible old man's beard vines in the project area during the upcoming season," says Horizons Regional Council and Te Apiti – Manawatu Gorge Governance Group Chair Bruce Gordon.
"If this is achieved, future old man's beard control will consist of maintenance works at a much reduced cost and the native forest will be protected from one of its major threats," says Mr Gordon.
The work to control Japanese honeysuckle and wandering willie will be undertaken by Rangitane iwi, who are stakeholders in the Te Āpiti – Manawatū Gorge project.
"This extra funding is most welcome as we hope the control work carried out on these two weeds will make a significant impact on the project area," says Mr Gordon.
"It comes at a time when the Gorge is faced with significant challenges due to its roading infrastructure. However, we want to remind everyone that the walking and mountain bike tracks are still very much open.
"The recreational values of the Gorge have continued to prove popular over the last five years, with walking track visitor numbers increasing by 350 per cent since 2012. The Governance Group has funded work to upgrade the Grade 3 Te Ara o Mahurangi mountain bike track, re-routed the 11 km full length walking track, made commitments towards the development of a new 4km walking track at the Ashhurst end of the Gorge and a toilet on the Tawa Loop track, as well as received central government funding to replace single pan permaloos with larger toilet blocks at both ends of the popular visitor destination before the start of summer.
"Freedom camping numbers at Ferry Reserve have also increased, and the Gorge Governance Group wants to encourage more visitors to stay in the area, where they can enjoy a unique scenic reserve and quality experience while contributing to the Region's economy."
Mr Kemper says DOC staff are currently working to assess and long-term implications of track stability and safety. Maintenance includes monthly inspections in accordance with DOC standards for this kind of facility.
"We also complete other inspections in response to natural events such as storms and earthquakes, as well as in response to user feedback about track conditions or issues," says Mr Kemper.
The Gorge Governance Group will be presented with a geotechnical report on land stability in the park's recreational areas at its August meeting.
For more information on Te Āpiti – Manawatū Gorge visit www.teapiti.com. For more information on the War on Weeds visitwww.doc.govt.nz/nature/pests-and-threats/war-on-weeds/