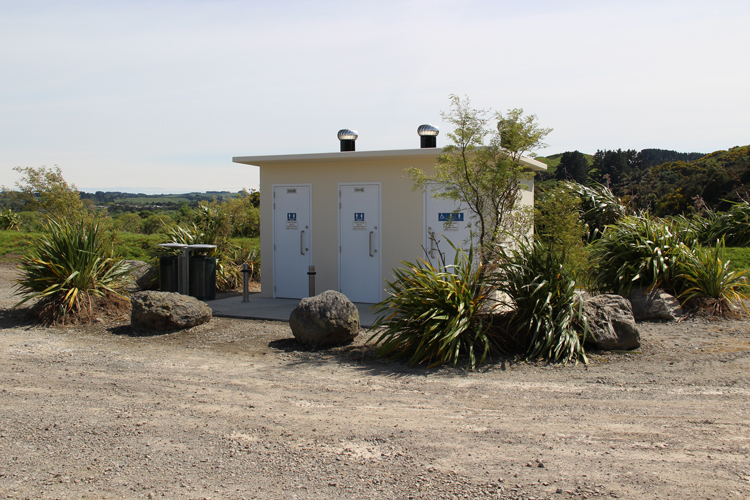 Media release from Horizons Regional Council about the $105,800 of funding recieved to help replace single pan permaloos with larger toilet blocks at both ends Te Āpiti – Manawatū Gorge.
Tourism Minister Hon Paula Bennett announced today that Te Āpiti – Manawatū Gorge will receive $105,800 to help replace single pan permaloos with larger toilet blocks at both ends of the popular visitor destination.
As part of a wider $5.2 million national announcement, Minister Bennett said this funding will be a relief for communities responding to the steady stream of visitors they are seeing.
"Tourism is hugely important to many of our regional economies and infrastructure is essential to harnessing the benefits of growth in the sector," she says.
Te Āpiti – Manawatū Gorge Gorge Governance Group and Horizons Regional Council Chair Bruce Gordon says walking track visitor numbers have increased by 350 per cent since 2012.
"This has meant the current toilet facilities at the respective Ashhurst Carpark and Ferry Reserve ends of the Manawatu Gorge have outgrown capacity," says Mr Gordon.
"A proposed new mountain bike track is being considered as a result of the Accelerate25 Manawatū-Whanganui Economic Action Plan; such a development will further increase visitor pressure given this activity is a year round one that isn't weather dependent.
"This funding will contribute towards a project to replace the current single pan permaloos with larger toilet blocks at both locations, catering for increasing visitor numbers and providing for continued tourism growth in this area."
The estimated cost of the project is $178,000. In addition to central government's funding Horizons Regional Council, Palmerston North City Council, and Tararua District Council will contribute $20,000 each.
Tararua Mayor Tracey Collis says as well as walking visitors, an excess of 8,000 vehicles a day on average travel through this part of the Region, and an estimated 100 campers stay in Ferry Reserve every week.
"The recreational values of the Gorge continue to prove popular. Encouraging more visitors to stay in the area, and giving them a quality experience while they are here is good for our economy," says Mrs Collis.
"It's also great to have some positive news about the Gorge when the challenge of keeping the road open is clearly at the front of people's minds currently."
"Te Āpiti – Manawatū Gorge is highly prized by locals for its recreational, biodiversity, cultural and educational value with more that 100,000 visitors in the last year," says Palmerston North Mayor Grant Smith.
"The Gorge offers a range of recreational activities in a highly-visited biodiversity management and scenic location, which has the potential to contribute to a stronger economy, community and cultural wellbeing."
The mayors and chair are part of the recently formed Te Āpiti – Manawatū Gorge Governance Group, a collaboration between the three councils, along with Manawatu District Council, Department of Conservation, iwi, landowners and individuals.
Mr Gordon says the Group's membership reflects the high level of commitment towards protecting, enhancing and sustaining the wider Manawatū Gorge area.
"The Governance Group has set itself a 10-year vision, which in its first year includes budget for pest control and parks and reserve management, and the compiling of an overarching biodiversity management plan for the area. We have also funded work to upgrade the Grade 3 Te Ara o Mahurangi mountain bike track.
Last month, Conservation Minister Hon Maggie Barry opened the newly re-routed 11 km full length walking track and also made commitments towards the development of a new 4km walking track at the Ashhurst end of the Gorge and the toilet on the Tawa Loop track. Relocations within the park are also planned for the single pan permaloos.